One hundred years ago, Robert Noble Burgess founded a Country Club at the foot of Mt. Diablo. His vision was to create "A Community With an Ideal". Motoring and golf were new sports for Americans, and the mountain Burgess owned, Mt. Diablo, was the perfect backdrop.
Burgess certainly had an eye for talent. He found the future architects of Pebble Beach and Olympic Club to build a world-class golf course on a property that included orchards, community gardens, a chalet, the Red Horse Tavern, a dairy, stock farm and a post office.
The unique community in Diablo – just outside Danville – was served by an electric rail that ran 28 miles west to the Berkeley pier.
Still years away from designing his seminal piece of work at Pebble Beach, the 23-year-old, Jack Neville, had the first crack at Diablo Country Club.
Neville used the natural valleys, existing grassy hollows, and centuries old oak trees as natural hazards. Small, challenging greens with tee boxes just steps away from the previous hole are reminders of how the game used to be played.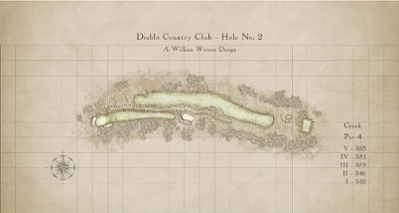 Nine holes were completed in 1915, but the second nine were delayed to support the ongoing war effort. Neville's design for Nos. 4, 5, 7, 8, 9, 16, 17 and 18 play very similar to this day, a lasting tribute to his early genius. Neville was awarded a charter membership for his lasting contributions to the club, while the Jack Neville Snack Shack is visible from 16 of the 18 holes, and welcomes players after Nos. 4, 9 and 15.
After World War I, Diablo continued construction of the course. William Watson, an accomplished golf course architect by trade, was asked to finish the 18-hole design. Watson's works included Minikahda in Minneapolis, the site of the 1916 U.S. Open.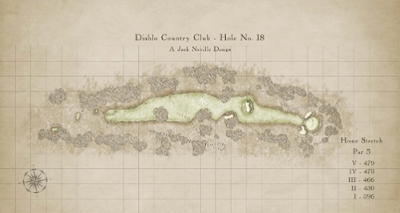 Under Watson's direction, Diablo's opening hole was rerouted, while the nine additional holes used many of the same natural elements Neville found so appealing. Watson featured the majestic oaks and grassy hollows, but he also incorporated the gentle rises of the property.
Elevated tee boxes, stunning vistas and a ridge line green are elements that give today's player an appreciation for the difference between these two iconic designers. Soon after his work at Diablo, these elements also became features at Watson's epic Olympic Club designs.
An amazing 11 U.S. Opens have been played on courses designed by Watson and Neville. Diablo Country Club proudly celebrates its place in history as the only course in the world that can enjoy the work of both designers. Diablo has hosted professional exhibitions, the Northern California Open Championships, USGA Amateur Championship qualifiers and U.S. Senior Open qualifiers.
Neville's playing career as a five-time California State Amateur Champion has never been equaled but his success has been inspiration for generations of Diablo members. In 1934, Diablo's Stuart Hawley, Jr. was crowned champion. In 2009, Diablo's Geoff Gonzalez, who owns a share of the current Diablo course record at 62, was both low qualifying medalist and the California State Amateur Champion at Lake Merced GCC
But Diablo's history extends beyond its centennial celebration. When Burgess purchased the property, it housed several buildings that still stand today. The original property was known in 1874 as the Railroad Ranch, reflecting the Southern Pacific/Central Pacific ownership group of David Colton, Leland Stanford, Mark Hopkins, Charles Crocker and Collis Huntington. Colton eventually purchased the ranch from his partners and began breeding and racing world-class pacers and trotters on the magnificent parcel of land.
Elements of the ranch are the signature elements of today's Diablo. The carriage Lounge (circa 1881) is the heart of the clubhouse. A Grand Barn (circa 1885) became the Red Horse Tavern. Trees that lined the turn of the century racetrack 130 years ago provide framing for the 16th hole, and an 1881 cupola tops the Neville Snack Shack at the center of this parkland golf course.
Today, Diablo Country Club blends its historic past with important features of today. The Legacy Tees, a 6,134-yard layout with a slope of 129 and a par 71, plays much as the original designers intended. The Macdonald Smith Tees provide a stern challenge for the low-handicap players, a true test of golf at 6,766 yards, with a slope of 139 and a par 71.
Diablo Country Club Director of Golf, Jason Walter, follows a strong tradition of playing and teaching professionals at the club. In its beginnings, Diablo was the West Coast home of Carnoustie golf professionals immigrating to America. Today, Jason utilizes his two decades of PGA experience by leading his professional staff both as a teacher and competitor.
Built as Northern California's first family oriented club, Diablo also proudly embraces a leadership role with its vibrant ladies' groups, and a highly successful junior program. It is this welcoming family atmosphere that keeps Diablo true to its legacy – A Community With an Ideal.